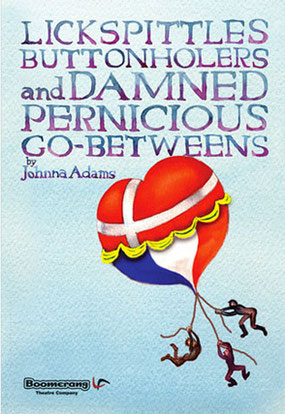 By Johnna Adams |  Directed by John Hurley
May 1st-17th, 2015 at Teatro Circulo
Three extraneous Danish court officials: a professional loud mouth (the buttonholer), a kiss ass for hire (the lickspittle) and a successful dastard (the go-between) are tossed out of court just as Denmark's merchant fleet becomes of strategic importance in the Napoleonic war. The three men journey to France and meet Napoleon's top lickspittle, buttonholer and go-between, their female counterparts. Plots abound, flying machines are destroyed and the head of Marie Antoinette is discovered during the madcap struggle to save Copenhagen from British howitzers. In a rhyming, metered world, the offbeat rules.

Cast & Crew

Directed by John Hurley John directed Lickspittles for Boomerang in 2013. Other Boomerang credits include Tom Stoppard's, Artist Descending a Staircase and Shakespeare's, All's Well that Ends Well. Recent credits include, King Kirby by Fred Van Lente and Crystal Skillman at The Brick. John became an Assistant Artistic Director of Boomerang in 2014.
Stage Manager: Sarah Lahue                                      Props Design: Judy Merrick

Assistant Stage Manager: Alexander Nixon             Sound Design: Jacob Subotnick
Costume Design: Holly Rihn                                        Fight Direction: Michael  Lawrence Eisenstein
Lighting Design: Morgan Zipf-Meister                      Set Design: Sandy Yaklin                                     
Featuring
Nat Cassidy*
Gavin Starr Kendall
Catherine McNelis*
Kelley Rae O'Donnell*
Ridley Parson*
Amy Lee Pearsall*
Isaiah Tanenbaum*
Kristen Vaughan
Sean Williams
Aaron Michael Zook*

Showtimes
Tuesday - Saturday at 7:30pm
Sundays at 3pm
Special Saturday Matinee
May 16th at 2pm! 

No performance Saturday May 9th
Location
Teatro Circulo

64 East 4th Street

(Between Bowery/2nd Ave)
NYC

Join us for FLIGHTS OF FANCY!
On Saturday Nov 22nd, we will be honoring the art of making new plays with FLIGHTS OF FANCY, a benefit party celebration. Tickets are $35 in advance, $40 at the door, and include open bar, hors d'oeuvres, and some very special entertainment. 
First Flight is begins this week!
It's that time again...the 12th Annual FIRST FLIGHT New Play Festival is upon us! We kick off this week on Wednesday with the first of six exciting readings. All readings are free, so we hope you will join us.All the details about the festival lineup can be found here